Wow Open-aperture Problem KIA Sorento and Rio Sedan Cars
Open
-aperture
Problem
KIA
Sorento
and
Rio
Sedan
Cars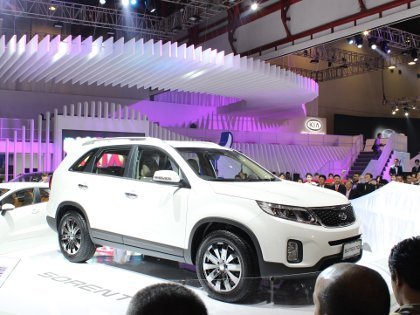 Not wanting to be outdone by its competitors, at the Indonesia International Motor Show (IIMS) 2012 Korean car manufacturer KIA helped bring new cars.
KIA featuring multiple champion, started up vehicle segment sedans Sport Utility Vehicle (SUV).
New cars, among others Sorento and Rio Sedan.
Unfortunately they have not officially launched in Indonesia's car market.
Kia will launch two cars next 3 months.
This was confirmed by the Marketing Director of PT KIA Mobil Indonesia, Hartanto Sukmono at KIA booth at the JI Expo Kemayoran, Jakarta.
"We have not officially launched. Introduction We only just. If no obstacle officially launched three months," said Hartanto.
Hartanto confirmed for All New Sorento will be priced less than $ 400 million.
While Rio sedan priced below Rp Rp 200 million.
"That price is appropriate. Been taken into account for the next three months," he explained.
For Kia Rio sedan, Hartanto explained there was no difference between the hatchback and sedan versions.
The only difference is the size longer than the hatchback model.
As for KIA Sorento undergo significant changes.
"Newest Sorento sporty, and many new features. Whereas the overall Rio sedan similar to a hatchback," he added.
2012 Kia Rio sedan uses 1.4-liter Gamma engine 4-cylinder-powered 107 PS at 6300 rpm and torque of 135 Nm at 4,200 rpm.
You can choose the Rio 2012 4-speed manual transmission or 6-speed automatic - a first in its class.
Consumption, Kia Rio sedan-efficient, between 14-18 km / liter and CO2 emissions of 125-167 g / km.
Rio sedan available facilities CD/MP3 player, radio, Aux connection, iPod, Bluetooth, USB.
Four speakers are inside the cabin for sound melodious singer kesanyangan you.
While the latest KIA Sorento can now accommodate as many passengers as 5 and 7 people.
Ttrim and offer cloth or leather upholstery in black and beige.
Dashboard also changed, such as LCD panel meter and 7-inch central display.
Panoramic roof is also available on the roof.
For Indonesia's car market SUV is available 4-cylinder engine 2.2-liter CRDi.