Why Honda CR-Z Practice? Inspired by Cristiano Ronaldo CR7 Perhaps Name
Why Honda CR-Z New Car Wondefull Practice? Inspired by Cristiano Ronaldo CR7 Perhaps Name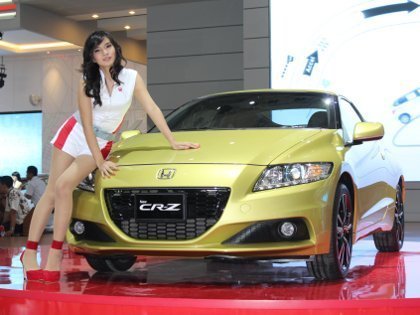 PT Honda Prospect Motor (HPM) has just launched a sports car CR-Z hybrid.
Since its launch in Indonesia International Motor Show (IIMS) 2012, a car costing nearly $ 500 million it has sold 50 units.
Why could sell?
Director of Marketing and Sales Service of PT Honda Prospect Motor (HPM), Jonfis Fandy said it happened because the CR-Z is priced at an affordable price.
Besides sport sedan comes with different shades.
"Plihan new sports cars in Indonesia. Dateng sports car is something different. If the usual sports car stalled unusable. If this (CR-Z hybrid) can be," said Jonfis on the sidelines of the media test drive All
New CR-V in Bali, on Wednesday (10/10/2012).
Honda itself seriously working on this segment though marketnya bit.
According to many potential car Jonfis in the country.
One is about keiritan fuel.
Jonfis added, the largest segment of the CR-Z hybrid is a young man who wanted to be different.
"We are serious as the first hybrid cheap in Indonesia. These young people can get into," he concluded.

Strengthen technicians CR-Z hybrid
To not disappoint the consumer, strengthening Honda dealership network in Indonesia.
The entire Honda dealership in Indonesia, especially in Jakarta reinforced engineer CR-Z.
In particular Honda was not too dizzy provide technicians CR-Z hybrid.
Because the engine is similar to the engine which is quite understandable Jazz Honda technicians.
While the electric motor is quite checked through a computer that can read if there is damage to the electric motor below the battery.
"We've got experience of a. We train in Jakarta from September 2012 until February 2013. We prepare all. Jakarta first, it Surabaya and other cities. All technicians can repair, because the engine is similar to the Jazz. Only tuning with the computer. So stay
he learned, and easy. easily absorbed by the technician, "he added.
Jonfis added within 6 months of preparation was able to get a reliable technician.
"Within 6 months can provide understanding about hybrid technicians," he concluded.
Honda CR-Z hybrid manual transmission is offered at a price of Rp 475 million and New CR-Z CVT transmission at Rp 489 million.
While the Honda CR-Z hybrid carries a 1.5-liter i-VTEC engine combined with a battery technology Integrated Motor Assist (IMA).
Engine performance Honda CR-Z is able to produce a maximum power of 120PS at 6600 RPM engine speed for type 6 speed manual transmission, and 118 PS at 6600 rpm engine speed for CVT transmission type.
While the IMA device comes powered by a 100 volt battery capable of producing 20 PS.