Wow Coool, Tourists Crammed and Watch Enthusiast, Kuta Bali Cultural Parade
Tourists
Crammed
and
Watch
Enthusiast
,
Kuta
Bali
Cultural
Parade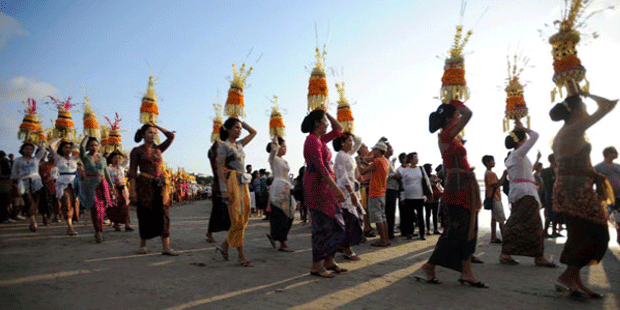 Hundreds of foreign and domestic tourists and the local community crowded Kuta beach watching the parade opening event of artistic creativity X Kuta Karnival held in Kuta Beach, on Wednesday (10/10/2012) afternoon.


Thousands of parade participants who follow the event seem enthusiastic despite having to wait for hours and bask in the hot summer sun. They walked quite a distance from the east end of the beach up to the location in the west of Kuta Karnival.


The parade featuring 200 dancers and mascot be legong palace ogoh-ogoh (giant statue). A convoy of ogoh-ogoh are taken as a form of Batara Varuna God of the Sea, and the procession statues of Goddess Sri symbolizing prosperity.


In addition, the ogoh-ogoh also made ​​icons depict the Kuta Karnival is a creative young people in the area of ​​Kuta.


Before the cultural parade was held, organized children first release sea turtles or hatchlings and paddle for peace.


"It was very interesting as evidenced by the number of visits last year reached 11,000 people. We hope this year can be better than that," said I Made Rudika as Chairman of the Committee of Kuta Karnival X.


He hopes the festival will bring a positive impact on government and society in promoting tourism and the preservation of life and the Kuta area of ​​Bali in the eyes of the whole world.


"Implementation of this time was packed not merely a part of the promotion, but also aims to provide entertainment for tourists and people who visit this beach," added Rudika.

sources:
between

editor:
I Made Asdhiana