State Owned Enterprises Minister Dahlan Iskan Bring Electric Cars Ferrari
State Owned Enterprises
Minister
Dahlan
Iskan
Bring
Electric
Cars
Ferrari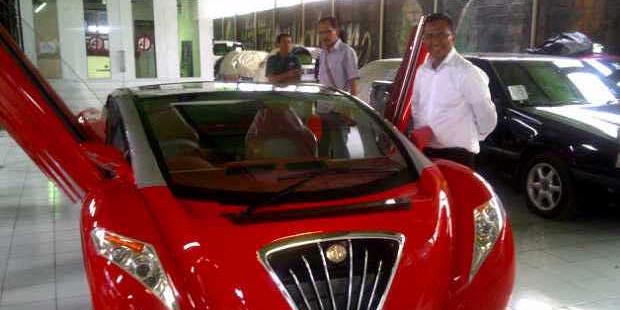 Soon, Minister for State Owned Enterprises Dahlan Iskan will definitely smile.
Therefore, the electric car "Ferrari" are now produced in Yogyakarta will soon arrive in Jakarta.
"On Saturday there (Yogyakarta) again to see his Ferrari. Condition is ok, it's nice to drool," Dahlan said in Jakarta, Sunday (10/07/2012).
Obviously, the second electric car can not be driven directly.
Dahlan and his team will test the car in Yogyakarta until ready and can be brought to Jakarta.
Dahlan added that recent months had mangkrak electric cars because electric batteries have not been installed.
These batteries must be imported directly from the United States.
After that, the battery is also stuck in port due to administrative issues.
Due to delay installation, the car maker was unemployed workers.
To cope with the purchase of an electric battery to be imported from the United States, Dahlan want any manufacturers who produce it domestically.
Thus, the price of electric car components can be suppressed.
"If components can be reduced, the price of the car will be cheaper," he added.
Earlier, Dahlan had visited Nipress Tbk PT in Cullinan, Bogor, West Java.
The visit was to discuss the readiness Nipress in making batteries to supply electric propulsion cars nationwide.
Dahlan said Nipress has expressed its readiness to supply components that will be installed batteries in electric cars.
In that conversation, Nipress states capable of producing forre lithium phosphate battery types.
Dahlan hope, Nipress can produce the lithium batteries in May 2013.
Currently, the national investment in electric cars is expected to cost around Rp 5 trillion.
There are four variants of vehicles that will use electrical energy, namely Suzuki Carry class vehicle, a type of Toyota Avanza, Honda Jazz class, and Mercedes-Benz.
For information, electric cars Ferrari class is priced at Rp 1.5 billion per unit.
Until now the booking amount to 40 units, including orders from President Susilo Bambang Yudhoyono.
Electric car from Yogyakarta was assembled by Danet Suryatama.
Surabaya Institute of Technology graduate engineer with a doctorate from Michigan, USA, has over 10 years as engineer in the U.S. auto plant.
Currently, a prototype electric sports car was made.
Prototype electric car that will be introduced in August and mass production began in early 2013.
Editor:
Dwi Inggried Wedhaswary