Release Audi RS 5, Sky is Limit
Release
Audi
RS
5,
sky
is
limit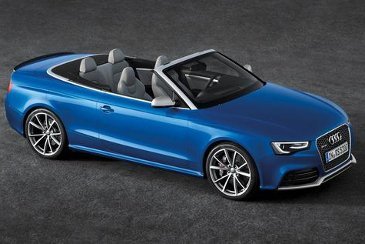 Ingolstadt, Germany - Audi adds performance models by Audi RS 5 convertible.
Users of this car as if going to enjoy driving with the sky as the limit.
RS 5 Cabriolet variant was launched to complement the RS 5, which was previously only available version of the hard top.
The car is ditampuk a special car Audi.
1.
Design exterior

Audi RS 5 Cabriolet has a combination of elegance and power.
Audi RS 5 Cabriolet has dimensions LxWxH (4649 mm, 1860 mm, 1380 mm) and wheelbase of 2751 mm.
As with other Audi models, the Audi RS 5 Cabriolet uses hexagonal single frame grille with a silver frame.
While using a honeycomb grille with the Audi logo.
The front is adorned with the xenon plus and LED lights that serve as daytime running lights.
Part of his soft top is activated from a button on the center console.
The roof can be opened automatically in a matter of 15-17 seconds and can open the cover under the speed of 50 km / h.

For consumer choice, the Audi provides a choice of 4 roof is black, gray, red or brown.
Also as a package option, customers can add aluminum in the engine compartment where the use of carbon fiber-reinforced polymer (CFRP).
2.
The interior design

The cabin interior is enriched with black.
Audi car that signifies resurrection was also enriched with adaptive cruise control and dynamic steering.
As a thickener aura RS5 Cabriolet, the RS logo is also embedded on the seat, aluminum material on the sill plate, steering, tachometer and gear lever.
In the center console embedded MMI navigation system.
There is also a WLAN hotspot for online services.
To facilitate motorists, comprehensive information about the Audi pinning cabin temperature and the temperature outside the car.
3.
Machine

Audi RS 5 Cabriolet seconded V8 4.2 liter FSI Tronic dual-clutch 7-speed automatic.
Available drive S, and D for drive selection.
The machine is claimed to be able to catapult power 331 kW (450 hp) and torque of 430 Nm at 4000 rpm and 6,000 rpm.
That ability could melesatkan 4 passenger car from the point of 0-100 km / h within 4.9 seconds.
Engine is modified in such a way as to produce exceptional performance.
Embedding aluminum to lighten the machine work was done.
Improvement is able melesatkan Audi RS5 Cabriolet up to the speed limit of 280 km / h.
Better than the coupe version which is only capable of racing up to the speed limit of 250 km / h.
4.
Power transmission

Audi RS5 Cabriolet seconded V8 4.2 liter FSI Tronic dual-clutch 7-speed automatic.
Models enhanced with mempanjang transmission gear ratio.
Additionally claimed the transmission shift smoother and faster.
Available drive S, and D for drive selection.
In normal driving operation, power 450 hp normal torque distribution between front and rear wheels with a ratio of 40:60.
But in certain situations can be directly channeling the energy up to 70 percent to the front or up to 85 percent to the rear.
The achievement was thanks to smart features that simplify the transmission behind the legs to read a character field.
This condition is also claimed to prevent tire slip in certain situations.
This technology also makes the RS 5 Cabriolet qualified in extreme field conditions.
Remarkably happen oversteer or understeer can be avoided as early as possible.
5.
Chassis

Which binds to the chassis of the car body is very complex.
Not to mention supported by five link front suspension and trapezoidal link rear are made of aluminum to make the car move better in class.

The four suspensions available technology Dynamic Ride Control (DRC).
The suspension will harden if the button on the console is pressed.
With technology speeding car was ready invited.

Working with the DRC will be a maximum of 19 inch alloy rims wrapped with 10 cross tires 265/35.
And the package optional 20-inch alloy rims are fitted tires 275/30