Not Prevalent, Car Sedan Gets Abuse Discrimination
Not
Prevalent
, Car
Sedan
Gets
Abuse
Discrimination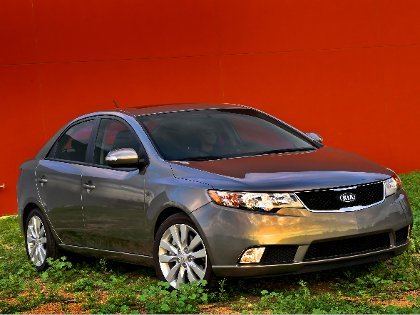 KIA Cerato
Jakarta - Of all the best-selling car model in Indonesia, model cars Multi Purpose Vehicle (MPV) is the best-selling car to date.
Meanwhile, the sedan continued to decline.
Sedan not get a lot of places in the hearts of the people of Indonesia because discrimination has occurred long ago.
Marketing Director of PT KIA Mobil Indonesia Hartanto Sukmono said that discrimination against car model sedan has occurred for decades in Indonesia.
That's what makes the market model of this car can not be developed.
"Indonesia is not a sedan, why not? Because sedan suffered discrimination in Indonesia. Example Rio five doors with 4 different tax doors and 3 doors. Fact the same platform, just a different model," he said.
"This was all done by design. If no one since 1974-1975. Government thinks people do not use sedan, MPV use only. So car 3 box (the term for a sedan) higher taxes," he explained.
"The vehicle of the same brand with the same platform between 5 doors and 4 doors or hatchback or sedan different, higher taxes 4 doors. Therefore than 1 million cars are expected to sell this year, sedan small numbers," he added.
Therefore, according to KIA Hartanto prefer to enter their new sedan, the Cerato taxi vehicle.
Because the taxi segment is still attractive and tax-free luxury goods (PPnBM) because they are on public transport.
Taxi market is also predicted to increase from 9 thousand units in the year to 11 thousand in the year.
"So the prices are competitive. Cerato for taxis we sell Rp 140 million for non-luxury sales, while the general public if we sell taxable luxury sales, the price can be translucent Rp 200 million," due diligence saying Cerato that put Indonesia as taxi cars imported directly from
Korea.
"Therefore we are ready to use it as a taxi Cerato us," said Director General Transcab, a taxi operator powered 800 fleet, Teddy Effendy.
Can Car Sales to Reach 1 Million Units
On the other hand, according to KIA Hartanto also believe that Indonesia's car market would be able to penetrate one million units by the end of the year.
He said if all the negative things such as increase in the threshold of vehicle loan payment can not restrain the rate of growth in car sales.
"For DP increases, leasing and bank seemed able to anticipate. So the achievement of 1 million units is possible. If this is achieved, it would be nice. Moreover, this is faster than previous predictions that many people are saying that 1 million new units to be achieved by 2013
or 2014. But it turned out to be in 2012, "he explained.
According to data from Indonesian Automotive Industry Association (Gaikindo) own up to in the month of June 2012 car sales has been able to achieve record sales of 535 263 units.
Meanwhile, in July 2012 received a score of 103 thousand units sales were made in total sales from January to July 2012 through a number of more than 600 thousand.
"Progress nice," said Hartanto.
As a result, the 1 million units expected to penetrate the Indonesian market to increase from last year's sales only reached 894,164 units.
Meanwhile, the MCH itself by Hartanto able to record sales of 7060 units in the first half of 2012.
This is a pretty good number for a KIA because its development is high ie 195 percent when compared to the first half of last year that made them up from position 10 to position 9 lists the best-selling car manufacturer in Indonesia.
From these figures, the largest donation given by the All New Picanto which contributed sales of 4043 units, or holding a contribution of 57 percent.
The second position is occupied by the Rio 1708 unit sales, with a contribution of 24 percent.
KIA Sportage crossover variants followed with sales of 866 units.