'Midwives' Indonesia for World Class Automotive
'
Midwives
'
Indonesia
for
World
Class
Automotive
Chris Lesmana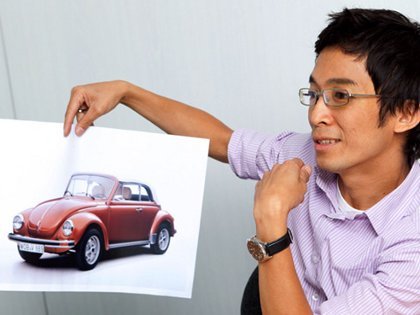 Jakarta - Mark Joshua Widjaja, 35, suddenly became the prey of journalists after the introduction of two small car product output two leading factory, Toyota and Daihatsu.
Understandably, arek Surabaya became a midwife.
"Mark is a designer Agya small car (Toyota) and Ayla (Daihatsu). An outstanding work," said President Director of PT Astra International Tbk Prijono Sugiarto while introducing two tiny cars.
Naturally, when praise was made, because Mark did not realize his work with ease.
Alumnus Department of Industrial Product Design Tenth of November Institute of Technology should be set aside three finalists from Italy, France, and Japan.
"We are competing in an international competition held by Astra Daihatsu Motor," said Mark for Second Day weekend.

Although held by Daihatsu Indonesia, the judging process, each of the finalists' work is not mentioned belongs to whom.
Even the jury also asked for input from the community to assess the concepts which they liked best.
As a result, the work Mark and his team became the favorite choice.
About the key concepts of excellence, Mark calls just trying to understand what the desires and needs of the Indonesian people, plus environmental and socio-economic conditions they are.
"That's the source of inspiration that never dry for me," he said.
Now, after three years working on the project concept and Agya Ayla, Mark should be proud.
Therefore, the car is going to be a style icon cheap car for Toyota and Daihatsu.
Remarkably, not only in Indonesia, but also internationally.
"This car is a car cheap, but not cheap. A work that deserves appreciation," said President Director of PT Astra Daihatsu Motor Sudirman Maman Rusdi.
In addition, there are two Indonesian citizens whose names moncer in matters of automotive design, the Christian Lesmana and Donny Adhi Yuwono.
Chris, greeting familiar Christian, is a hatchback car exterior designer of Volkswagen (VW) Beetle latest output or model 2013.
Even men born in Bandung, West Java, March 15, 1969, who had received his education at the Department of Product Design (1998-1991) Institut Teknologi Bandung is now dressed up positions at Volkswagen AG: senior exterior designer.
He worked hard to achieve success.
For the sake of his goal to become a topnotch designer, he was determined to study at the Hochschule für Gestaltung in Pforzheim (1993-1997) and left college at ITB who have lived four years.
"Only, in situ (Pforzheim) I can learn car design, a designer (car) is my goal," he said.
Chris glories VW Beetle exterior design makes the German manufacturer's return minicar exterior design believe other VW, VW Up.
Again, a small car that caught the public's attention.
That is evidence of cold hands Chris.
Meanwhile, Donny, at 200-2002 lined up to star as the exterior designer of the Toyota Kijang Innova by Toyota Motor Corporation, Japan.
Department of Product Design alumnus ITB was also noted as a designer at Toyota Racing Development, a special division of Toyota working on changes specific to Toyota.
Thanks to touch the cold hand, many cars Toyota TRD labeled the consumer likes.
"Innova is a global product. I am grateful to be a part of it," he said.
As well as Mark and Chris, Donny admitted a series of success does not come just like that.
Love the job wholeheartedly, sincere work, and understand and understand the needs of others is the key to success.