Extraordinary, 1200 Participant Follow Bali Kuta Karnival Parade
Extraordinary,
1200
Participant
Follow
Bali
Kuta
Karnival
Parade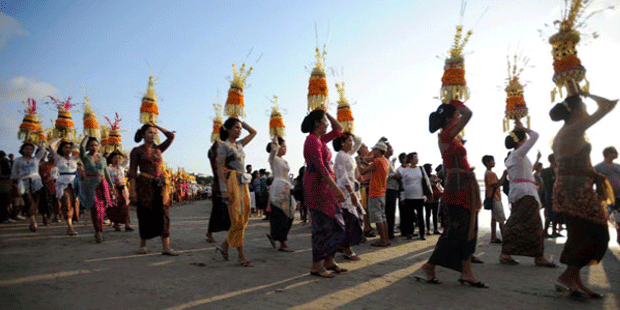 Parade opening event of artistic creativity Kuta Karnival X expected to draw about 1,200 participants.
"The festival is about the same as previous years, but the parades that we've made there will be more colossal," said I Made Rudika as Chairman of the Committee Kuta Karnival in Kuta, Bali, Tuesday (09/10/2012).
Kuta Karnival held 10 to 14 October 2012 will be featuring 200 dancers and mascot be legong palace ogoh-ogoh (giant statue), the procession ogoh-ogoh shaped Batara Varuna the God of the Sea, and the procession statues of Goddess Sri symbolizing prosperity.
"In keeping with the theme of 'World Prosperity' which signifies that the world economy has led to the prosperity of the Bali bomb pascatragedi 10 years ago," he said.
In addition, the ogoh-ogoh will also be created describing the Kuta Karnival icon made by the creativity of young people.

The various events that will entertain the audience as the music festival of local bands, festival food from hotels and restaurants in Kuta, kite festival, surfing contest, and "Paddle for Peace" by local surfers, release hatchlings, and unique competition for
the waiters.
"It was very interesting as evidenced by the number of visits last year reached 11,000 people. We hope this year can be better than that," said Rudika.
Rudika hopes festival will bring a positive impact on government and society in promoting tourism and the preservation of life and the Kuta area of ​​Bali in the eyes of the whole world.
Suparta Reef, one of the initiators Kuta Karnival, said he was proud that the festival is still going to this year.
"With this festival, we really appreciate young children in Kuta to continue the work that was started 10 years ago, to revive tourism in Bali pascatragedi bomb," he said.
Suparta added, Kuta Karnival has contributed to the recovery of tourism in Kuta.
For that it will continue to do this work as a matter of conscience to do what is best for the people of Bali.
Sources:
Antara
Editor:
I Made Asdhiana