Awesome! 5040 Honda Cars Sold in August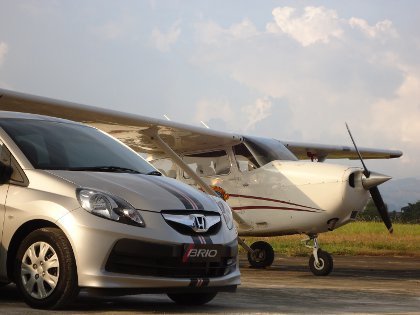 Honda car sales declined in August.
When in June and July, Honda managed to remove each 7410 units and 7486 units, in August, the Japanese manufacturer is only able to remove 5040 only.
Could be, Honda sales decline significantly starting this happened because of the effect of decreasing pre-and post-Lebaran penjualanan.
However, Honda's content happy, because anyarnya car, Honda Brio within a month after its launch direct record bookings (booking) as many as 2301 units throughout Indonesia.
Of these, Brio has recorded sales of 1062 units in the month of August.
"We are very grateful for the new Honda Brio marketed in August immediately get a pretty good reception in the Indonesian automotive market," said Marketing & aftersales Service Director of PT Honda Prospect Motor Jonfis Fandy in his official statement.

Besides Honda Brio, Honda's other products also contributed to the sales were pretty good for Honda.
In August, the Honda Freed, Honda Jazz and Honda Brio to be a major contributor to total sales of Honda.

Honda Freed is the proponent of the biggest sales in August, which contributed sales of as many as 1642 units.
During the year 2012, Honda Freed has sold 12,442 units.
While the Honda Jazz donate as much as 1479 units in August.
Thus, until August 2012, the Honda Jazz has sold more than 14,806 units throughout Indonesia.
New Honda CR-V recorded sales of 57 units in August.
In total, Honda CR-V has sold 6708 units during the year 2012.
Meanwhile, the premium MPV Honda All New Honda Odyssey 7 units sold in August 2012 and has sold 560 units during the year 2012.
In the sedan segment, the new Honda City sold 249 units in August, Until now, the Honda City has sold 1358 units during the year 2012.
While New Honda Civic that was launched on June 20 and also successfully sold 297 units.
For premium sedan model Honda Accord after being hampered supplies from Thailand some time ago.
In August the 247 units sold.
In August alone, the total sales of 5040 units of Honda is counted.
In total to date, Honda has sold 38,544 units during the year 2012.