Wow With The Motor Design F-16 Jet Plane Appears in Indonesia
With
the motor
design
F
-16
Jet
Plane
Appears
in
Indonesia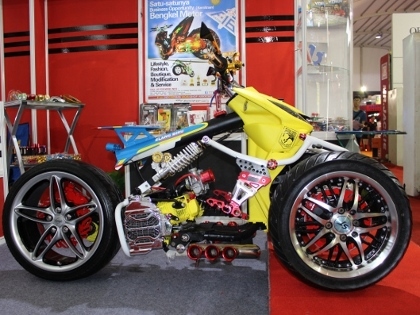 Indonesia International Motor Show (IIMS) 2012 was not marred by a car.
Motor also helped to enliven the annual event.
As the motor on this one.
Interestingly, the motor on this one is not from one of the global motor manufacturers.
It is Mio Sporty scooter that has undergone modification by the modification phase of F-16 from the Ciledug, Tangerang.
This one is modified Yamaha Mio extreme.
Almost invisible skutiknya side.
The modifier to change the style of the three wheels.
Maybe you think cheating design concept Can-Am Spyder motorcycle from Canada.
Estimate your wrong.
Home modifications employee confirmed that F-16 fighter aircraft inspired by the F-16 and the Piaggio MP3.
Hence when cornering, motor, dubbed the Blue Eagles could almost lie down like a Piaggio MP3.
Yamaha Mio immerse the modifier with 2 engines.
Unfortunately the only engine malfunction.
Only used as a cover vacancies.
The other serves as the engine driving the rear wheels and now has a capacity of 150 cc from only 110 cc.
"The engine Mio, but the body of the Honda Beat. Visible engine 2, but actually only one. Which water machine and limited only to beautify. While the exhaust just left it functioning. Merely the right of the display," said Store Manager F-16, Rini
Alfyani when booth F-16 in hall semi permanent visited detikOto.
Rini explained other than that part has changed, the framework also have certainly changed.
Original frame just visible in front of the handlebars to shore, while others strung iron pipe.
Mio Sporty one is using 6 shock absorber, 3 on the front and 3 in the middle.
To the maximum, 2 car rim ring 14 is placed in front of the dressing tires 160/60.
And rear tires using rim ring 18 225/40.
Rim-rim is mated with a disc brake.
Another unique thing of the scooter is located in the gas tank.
Gas tank is now moving forward with utilizing less space frame.
If you are not careful you may think only of the transverse spherical iron in the thigh.
But the fact the place of fuel oil.
Well like Minerva Sachs.
"There is a sense that too," said Rini.
Overall, the fund modikasi spend about USD 40 million to the old work less than 1 month.
"Work less than 1 month. Costs about 40 million," said Rini.
"This bike was bought together people of Borneo, the price behavior of RP 55 million," said Rini.