Wow Opponents Nissan Juke from Chevrolet Birth Next Month
Opponents
Nissan
Juke
from
Chevrolet
Birth
Next Month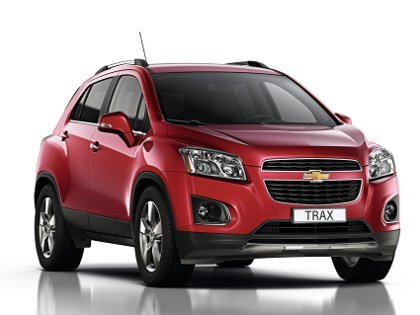 Paris - Finally for the first time a car manufacturer Chevrolet ensures entry into the small SUV segment rival to Nissan Juke presents.
According to plan, the new Chevrolet crossover will be shown to the world next month.
The car, named the Chevrolet Trax is scheduled to present at the Paris Motor Show next month and will be asked as the car that would dipasrkan globally.
"Over the last few decades, Chevrolet has been known as a reliable SUV and resilient. Trax will give you all Chevrolet traditional values ​​and other values. Smaller SUV vehicles are modern, versatile yet fuel-efficient, and offers a comfortable ride and all-
wheel drive (AWD), "said President and Managing Director of Chevrolet Europe Susan Docherty, Tuesday (14/08/2012).
With room for five passengers and cargo space are 'generous', according to the Chevrolet Trax will meet the needs of their customers worldwide.
According to the plan, in addition to the European market in 2013, Chevrolet Trax will market total to 140 countries in the world.
It may be that, Indonesia will be in the shooting Chevrolet Trax.
It's not surprising.
For Chevrolet Trax has a formidable appearance typical of an SUV with the ability of qualified Americans.
Muscular exterior design makes it look masculine and athletic.
While the interior, Chevrolet promises a different feel from the car class.
Even manufacturers who now leads the world's auto sales claims that interior Trax will be presenting a standard that is normally found on more expensive vehicles.
For the engine, includes a turbocharged 1.4L petrol engine and 1.6L and 1.7L turbo-diesel engine.

1.4L turbo petrol engine comes with a six-speed manual transmission that can generate power of 140 hp (103 kW) and maximum torque of 200 Nm.
System All Wheel Drive (AWD) is available in variants that use a gasoline engine or a 1.4L turbo diesel engine 1.7L.
1.7L diesel engine can generate power of 130 hp (96 kW).
All dapurpacu using manual transmission will use the functionality of the Start / Stop.
Both diesel engines 1.7L and 1.4L turbo petrol engine will also be offered with a choice of six-speed automatic transmission.
Inside the cabin space and storage flexibility offers unique connectivity.
Storage facilities at the new Trax fairly much.
In addition to the trunk with a capacity of 358 liters, this vehicle also has a left-luggage above and on either side of the center stack, and a storage area under the seat.
Other storage areas are also available under the cargo floor.
The rear seats can be folded 60/40, Trax also has a front passenger seat that can be folded flat, offering additional flexibility in this segment.
A total of eight combinations of seating configurations to choose from.
For the upper trim will be equipped with Chevrolet's MyLink system as a standard feature.
Chevrolet MyLink infotainment system is that unites content from the smartphone to a seven-inch screen, high-resolution, color touch screen.
In the winter, MyLink will feature a navigation application that can be downloaded to a compatible smartphone.
Further applications will project route have been calculated by the smartphone to the touch-screen system.
As for safety features, Trax comes with six airbags, Electronic Stability Control (ESC) including Hill Start Assist (HSA), Traction Control (TC), Anti-lock Braking System (ABS) with Electronic Brake Distribution (EBD), Trailer Stability Assist
(TSA) and Hill Descent Control (HDC) which is a standard feature for the LT variant.