Wow Chevy Trailblazer Car for Sale From Rp 360.8 million
Chevy
Trailblazer
for sale
From Rp
360.8
million
Marcos Purty with Trailblazer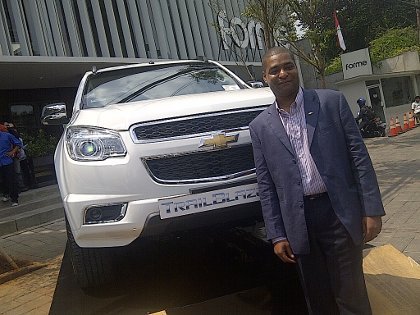 Jakarta - Sport Utility Vehicle (SUV) of newcomers from the All-New Chevrolet Trailblazer finally officially rolled on the streets of Indonesia.
PT General Motors Indonesia presents two variants Trailblazer.
Each one is a car with a 2.5-liter 2.8-liter LT and LTZ.
Special Trailblazer LTZ configured 2.8-liter four-wheel drive (4X4) with a 6 speed automatic transmission.
Vehicle, which was launched in Thailand a couple of months ago it was in Indonesia cost Rp 578.8 million (2.8 liters) of USD 360.8 million (2.5 liters).
In Thailand, the car was released at the price range of USD 316.5 million to USD 445.1 million.
"Vehicle SUV that has been long awaited finally present in Indonesia. Mobil will strengthen Chevrolet line up in Indonesia," said President Director of PT GM Indonesia, Marcos Purty on the sidelines of the launch Trailblazer SUV in Gingerli Jl.
Kemang Raya No..
37, Jakarta, Thursday (08/30/2012).
Trailblazer uses a 2.5-liter DOHC common rail direct injection, a turbocharger with intercooler can shoot power 150 ps at 3800 rpm and torque of 350 Nm at 2,000 rpm.
While the highest variant Trailblazer used engine DOHC 2.8-liter common rail direct injection, variable geometry turbocharger with intercooler (VG).
This machine is capable of spraying power 180 ps at 3800 rpm and 470 Nm of torque at 2,000 RPM.
Competitors Toyota Fortuner has dimensions LxWxH (4.7878 mm, 2132 mm, 1831 mm) with a wheelbase of 2845 mm.
"The vehicle is ready for the rough terrain., And this latest flagship model of our (GM) to consumers in Indonesia," said Marketing Director of GM Indonesia, Yuniardi H.
Hartono.
All New Trailblazer developed in Brazil for all the world automotive market.
The car was developed for a variety of roads from the mountains, off road.
Trailblazer is equipped with ABS, EBD and SRS Airbag.
Additionally Trailblazer SUV reinforced with safety features Electronic Stability Control (ESC), Hydraulic Brake Assist, Traction Control, Dynamic Rear Brake Propotioning, Panic Brake Assist, Limited Slip Positraction, Hill Start Assist and Hill Descent Control.
For customer satisfaction Chevrolet Trailblazer SUV available in 7 colors namely Summit White, swicthblade silver metallic, black sapphire metallic, royal gray metallic, red sizzle, auburn brown and oceanic blue.