The New Findings, Phenomenal Car That Can 'Live' in 3 Natural
The new findings, Phenomenal Car That Can 'Live' in 3 Natural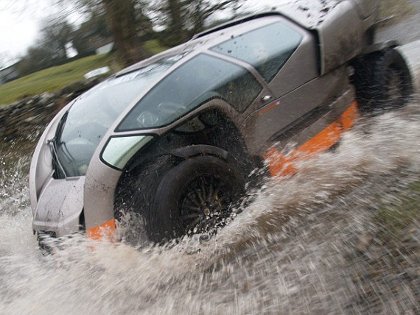 Seeing the strange looks you might be confused if this vehicle.
But when he saw his ability, you will surely shake their heads.
Because this is a car that can live in the third world as well.
Yes, this is a vehicle that is created from the Scamander Arise desires UK automotive leader Peter Wheeler.
Strange car is capable of devouring a variety of terrain ranging from the streets on road, off road to swim in the ocean water.
The car itself is the final wishes of Wheeler who died in June 2009 at the age of 65 years to cancer.
Peter wanted to fulfill his lifetime desire both on tarmac drive, off-road terrain and in the water with one vehicle.
That's why his wife Vicky wants her husband to realize his last wish and do not want to let just a dream.
After 3 years of her husband's death, this car was realized.
The car itself is supported by a V6 engine plucked from a Ford engine capacity of 3.0 liters.
In the end, the engine is also able to bring power up to 275 bhp with 250 lb-ft of torque through a 4-speed automatic transmission.
On the street, a car weighing 1.6 tons is supported 22-inch rims are able to carry on running in 8 seconds to reach speeds of 100 km / h maximum speed in figure 193 km / h.
But when in the water, the cockpit car like the McLaren F1 cockpit is able to swim up to about 6 knots.
"Over the last few years before he sold the TVR, Peter continued to talk about how to develop a fast car on the road, capable of competing in off road and that can also take you across the water," said Vicky.
Now the car is named after the Greek god of the river was just released with a tag of around USD 3.9 billion.
"I think (the vehicle) that has the potential for emergency services, military might or for anyone who wants to bring the vehicle to all the places," said Vicky.
"I like to think Peter would be very proud of the Scamander though he will probably say it needs more improvement to make it lighter and faster on the road and in the water," he said again.
Vicky was hoping someone who will continue the spirit of Peter and developing this car to the next stage.
"This is a very exciting project with so much potential," Vicky straightforward in the Daily Mail.