Major Car Manufacturer Toyota Embraces, Vocational School Children
Major
Car
manufacturer
Toyota
Embraces
,
Vocational
School Children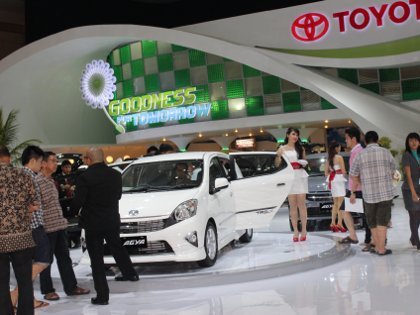 Although in the past few days a lot of news about student brawls, Toyota seems to still believe that the students are the future generation.
Japanese carmaker is also embracing students with a variety of positive things.
For the students, PT Toyota Astra Motor and PT Astra International, through Toyota and Astra Foundation (YTA) contribute back to the world of education in Indonesia by providing one unit of engine assy for use as props in teaching and learning activities in Vocational High School 1 Jakarta.
President Director of Toyota Astra Motor and Chairman of the Board of Trustees YTA, Johnny Darmawan, said that the delivery of this aid is one manifestation of concern YTA to make education in Indonesia,
particularly automotive education, getting ahead and being better.
"Assy engine submission is also a part of what has been done by Toyota and Astra Foundation for over 37 years," said Johnny, upon delivery engine assy to the representative of SMK 1 Jakarta, in the arena of IIMS, the JI Expo, Kemayoran, Jakarta
.
Toyota and Astra Foundation is a foundation established Toyota Astra Motor and Astra International in 1974.
YTA is engaged in the provision of aid to the education sector, especially in engineering.
YTA activities include the provision of scholarships for students from elementary to high school and university students.
Activities of the Foundation include the cost of aid research for professors who do research for a master's degree or PhD, and fee assistance technology research and scholarly activities of students.
Not only that, YTA also provide assistance in the form of donations to educational aids engineering institution, as well as the contribution of the students in the teaching manuals car maintenance techniques to a number of vocational automotive engineering.
Until the end of August 2012, the number of recipients from Toyota and Astra Foundation reached more than 71,000 people, consisting of 16,000 students and 55,000 elementary-school students.
YTA also has provided assistance to 230 students and 360 scholarly activities of research.
In addition, there is also the provision of assistance in the form of engine assy 291 units, some units cut body, transmission, and chassis, 1,600 wall-chart for educational aids, as well as 58,000 books for engineering colleges and technical schools throughout Indonesia.
Furthermore, Johnny hopes that giving aid engine assy and other YTA programs can contribute to advancing education in the country.
"Various activities we have done is certainly not going to stop here. We will continue to make improvements and contribute more to the world of education in Indonesia," he said.
Toyota - Technical Education Program (TTEP)
When was Toyota embrace those students who are still in school, Toyota also was also ready to accommodate vocational graduates there.
Toyota to expand the implementation of the program Toyota - Technical Education Program (TTEP) to participate in bridging the academic world and the needs of the world of work, particularly in the automotive field.
Marketing Director of PT Toyota Astra Motor, Joko Trisanyoto, mention TTEP program is intended to prepare graduates to be better prepared SMK Automotive face the world of work.
This is one of Toyota in spreading goodness, especially in education.
"Education is an important pillar that supports the progress of a nation.
So it is with the younger generation.
Therefore, Toyota makes some programs related to education for young people as a form of support for the nation's Toyota, "said Joko.
T-TEP is a program of cooperation between Toyota Motor Corporation (TMC), PT Toyota Astra Motor, Toyota authorized dealers, and governments, in developing and preparing HR Vocational School (SMK) are better prepared to enter the automotive industry.
In this program, Toyota provides several facilities for the selected SMK SMK TTEP and Sub TTEP.
For SMK Sub TTEP, Toyota provides a training manual, the latest curriculum development, teacher training, technical manual Toyota, and the opportunity to undertake vocational training at Toyota.
As for SMK TTEP, Toyota provides four points and a plus props facilities.
T-TEP first implemented in Indonesia in 1991 and became an important foundation in the development of human resource systems in Toyota's global operations have been implemented in 53 countries and 425 institutions around the world.
Implementation TTEP done through the provision of vocational training technology instructor, curriculum adjustments vocational learning system, providing OJT opportunities for students and instructors from all authorized Toyota dealer and distribution of training materials and teaching tools to support learning the latest technology.
To date, more than 4,800 students have benefited from the program.
Most of these graduates are working in a leading automotive company.
There are 57 sub-TTEP TTEP and spread across several regions in Indonesia.
Furthermore, Joko said Toyota was proud to have the opportunity to give and share the latest technology to educational institutions so that they can continue leading the technological mastery.
To that, he added, Toyota will consistently improve quality and Sub-TTEP TTEP.
Joko said that the active role TTEP Toyota through the program are expected to prepare skilled manpower and improve the competitiveness of vocational graduates.
As for schools, TTEP expected to bridge the educational institutions with the auto industry so that it can adapt to the evolving needs of the industry.