GM: Wow Car Trailblazer, Chevrolet SUV 77 Year Legacy
GM: Wow Car Trailblazer, Chevrolet SUV 77 Year Legacy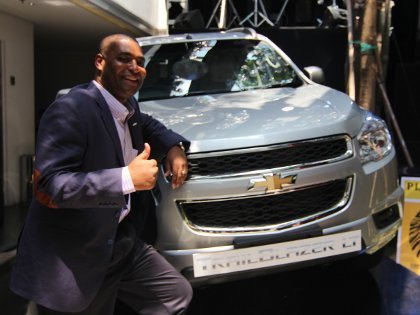 Trailblazer SUV regarded as the strongest GM made Chevrolet to Indonesia.
This car continues the legacy of 77 years gait cars Chevrolet SUV.
For the first time, through Suburban SUV SUV childbirth in 1935 ago.
Heritage now lies on the shoulders of Trailblazer.
"Trailblazer continue the legacy of 77 years who had given birth Chevrolet SUV innovative and high-value, offer a sense of confidence, dynamic style and has a combination of machine and drive highly capable," said President of PT General Motors Indonesia Marcos Purty in Jakarta.
This car could drive by Marcos in all variants.
Equipped kitchen runway four-cylinder Duramax turbo diesel that offers great power and torque.
LT offers a 2.5L variant configuration berpengerak two wheels (4x2), with engine size 2,500 cc five-speed manual transmission.
While the 2.8L LTZ variant configuration offers four-wheel (4x4) with engine size of 2800 cc six-speed automatic.
2800 cc engine capable of producing maximum power of 180 PS at 3800 rpm engine speed and torque of 470 Nm at 2,000 rpm engine speed.
Meanwhile, the 2,500 cc engine capable of producing maximum power of 150 PS at 3800 rpm engine speed and torque of 350 Nm at 2,000 rpm engine speed.
Both engines 2,500 cc and 2,800 cc offers durable components with a unique technology that only requires maintenance once every 20,000 miles - the longest scheduled maintenance intervals in its class.
The basis of the ability to drive Trailblazer, both on road and off road is the architecture of body-on-frame is sturdy.
Supported by an independent rear suspension five-link, a feature usually found on more upper class, which is a premium SUV.
The use of a snail on all wheels also makes the suspension movement Trailblazer to be better, a useful advantage in off-road conditions and provide the same comfort like sedan car for passengers.
Safety features are buried in the Trailblazer included; Anti-lock Braking System (ABS) with Electronic Brake-force Distribution (EBD) and protection airbags for driver and front passenger (for both variants LT 2.5L and 2.8L LTZ)
.
While specifically for 2.8 LTZ variant, additional safety features including; Electronic Stability Control (ESC), Hydraulic Brake Assist, Traction Control, Dynamic Rear Brake Proportioning, Panic Brake Assist, Limited Slip Positraction, Hill Start Assist, Hill Descent Control.
Additionally for the first time in its class, Chevrolet offered ventilated disc brakes on all four wheels.