Confidence Trailblazer Cars Near-close Fortuner and Pajero
Confidence
Trailblazer
Cars
Near-
close
Fortuner
and
Pajero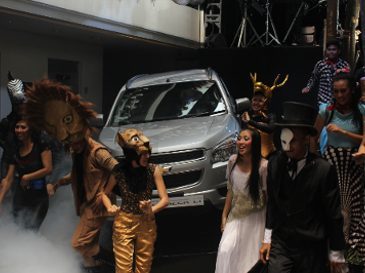 PT General Motors (GM) Indonesia strongly believe in the Sport Utility Vehicle (SUV) Trailblazer diesel in Indonesia.
The car is also considered a competitor is able to fight through the features and engine power.
This was revealed by Director of Marketing GM Indonesia, Yuniardi H.
Hartono on the sidelines of the launch Trailblazer SUV in Gingerli Jl.
Kemang Raya No..
37, Jakarta, Thursday (08/30/2012).
"These vehicles are very reliable in all fields like off road and urban. So this excess us against competitors. We compare the torque," said Yuniadi.
According Yuniadi, Trailblazer is designed in such a way in Brazil in order to appear dominant in the SUV market in Indonesia.
And later similar cars like the Toyota Fortuner and Mitsubishi Pajero Sport Dakar 4X2 will meet his opponent.
"This is not a cheap car, it's a premium position. Technologies currently practiced in situ visible," he added.
GM Indonesia launches 2 variants Trailblazer 4X2 diesel 2.5-liter engine and 2.8 liter 4X4.
If the note Trailblazer SUV uses a 2.5-liter DOHC engine commonrail direct injection with turbocharger and intercooler can shoot power 150 ps at 3800 rpm and torque of 350 Nm at 2,000 rpm.
While Toyota Fortuner 2.5-liter DOHC Variable Nozzle Turbocharger (VNT) Intercooler plus it is now capable of throwing power of 144 PS at 3400 rpm and torque 343 Nm could explode at 1600-2000 RPM.
Another competitor, Mitsubishi Pajero Sport Dakar commonrail 2.5 liter DOHC intercooled turbocharged transplanted could catapult power 178 ps at 3500 rpm and torque of 350 Nm at rpm 1800-3500 rpm.
Trailblazer is equipped with ABS, EBD and SRS Airbag.
Additionally Trailblazer SUV reinforced with safety features Electronic Stability Control (ESC), Hydraulic Brake Assist, Traction Control, Dynamic Rear Brake Propotioning, Panic Brake Assist, Limited Slip Positraction, Hill Start Assist and Hill Descent Control.
For customer satisfaction Chevrolet Trailblazer SUV available in 7 colors namely Summit White, swicthblade silver metallic, black sapphire metallic, royal gray metallic, red sizzle, auburn brown and oceanic blue.