Awesome, Muscular Car, Dodge Charger Redline
Dodge Charger
Redline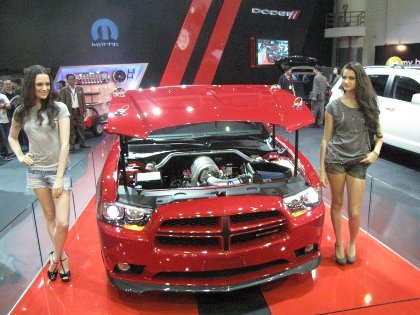 Jakarta - Perhaps the Dodge Charger Redline is one of the most muscular car in IIMs besides Camaro sports car course. Just look at the exterior appearance.


"This is a concept car that we call the Dodge Charger Redline," said Chief Marketing Officer, PT Garansindo Inter Global, APM Chrysler, Jeep, Dodge and SRT, Rieva Muchin arena IIMS 2012.


Dogde Charger Redline comes with 3 packs at once in the body. First, a package to increase aerodynamic exterior components and interior accents that reinforce sporty.


The second package, the Dodge charger equipped with performance parts that deliver strength and increased power and braking.


And the third package, improved engine components.


"The presence of this car, proving that Dodge products in Indonesia, quality, technology, and features the same security in their home country," said Rieva.


On the exterior, the charger appear attractive due to carbon accents. Starting from the front bumper spoiler, adjusting the prominent accent the door panels.


Part grille that 'crosshair' match the body. Black rims, Mopar Black Envy wheels 20 inches.


For the design of the cockpit was pretty awesome. Impression exclusive look at the premium quality materials and the majority of the ornaments of aluminum.


With a set of stainless pedal set, decorated with black rubber, ensuring the pedal does not slip when stepped on.


Sporty touch in the HEMI V8 engine is black. This machine is capable of producing 590 horsepower.